Tuesday, March 27, 2007
Obligatory South By South West post
Check out the video! My old digital camera was having trouble taking pictures in the low lit clubs so I tried to grab a few seconds of video of everyone I saw. There is it all slapped together. Surprisingly good audio for a 4 year old point and shoot!
Also brought down the field recording gear and managed to get lots of fun drops and interviews. I've compiled my favorite drops and conversations into an official Mofo Radio supplementary podcast type thing. In it you'll find an interview with the Austin band
Mediums
, some backstage chat with
Sharron Jones
, and lots of drops and mayhem in between. Oh and about the drops, I was officially there as engineer for WRBB (where I lead my radio double life) but wanted to grab drops and interviews to play on WZBC as well so you'll hear all sorts of call letters in the mix. Check em out:
SXSW Mofocast
And finally some notes on
last week's show
. Tracks from
the new Kieran Hebden and Steve Reid
are reinterpreted by
Audion (aka Mathew Dear)
with his remix of People Be Happy/ Rhythm Dance. This track brought to my attention by
These Rocks Pop
, who post more MP3's then I can download and have a pretty good handle on what's good. I'm also pretty sure one of them is a buddy of mine from high school but I've yet to make contact. Either way check them out!
Nothing super special planned for the show this week. Some more vinyl from Texas, jazz, free jazz, and electro free jazz freak outs are all likely. See me tomorrow night at 10. Peace yall,
-Ghostdad
Wednesday, March 21, 2007
made it back
in one piece! 5 days of South By South West and I'm still alive. I've got some
pictures
, video, and audio to share around but I'm way behind in processing all that so it'll have to wait till after tonight's show. Be sure to tune in though as I'll be airing what I can from what I got while in the great state of Texas. Highlights included: Las Manitas, Gilberto, Suzy and the Soul Review, Har Mar Superstar, Isaac Hays, Eddie Harris, Kid Sister, Sharron Jones, Sharron Jones, Yo Majesty, Mediums, Holy Fuck, 70 degrees every day, Frownland, swimming in Barton Springs (above), Chuy's, and Twittering. And I tried to fight it but the
Waterloo Records
bargain bin got me so we'll hear some fresh (to me) wax from Austin. More media to come.
Here's a little something
to tide you over. See you tonight at 10!
-Ghostdad
Tuesday, March 13, 2007
HEADED SOUTH!
Pretty pumped. Headed to the airport in a few hours to bounce down to
South By South West
but wanted to check in on last week's show.
DJ

Blaqstarr
repping
Mad Decent
with new releases and the most recent
podcast
. Some serial stuff but I may have one better. Have I talked about this
Tameil

guy
yet? His name keeps popping up more and more as he reps NJ to the fullest. I started
imeeming
recently in effort to keep track of that whole world and he's all over it. The track below is especially killing me. I think I'm gonna try to cop all the
mixtapes
.
We also heard new music from
Mofo
favorite Black Devil Disco Club. !?!?! You heard right. 30 years after the initial release of what has become a seminal dark
Italo
Disco discovery, the man behind the mystery producer Bernard
Fevre
drops the follow up. Sounds very close to the original in production techniques but our man
Fevre
won't even talk about where or when it was made! A sure thing for any fan of the original Black Devil. Who knows what this guy has in the vaults? Out on
Lo Recordings
.
On the weekend calendar you got
Certified Bananas
at
Thunderdome

4
Friday night. Saturday night
Flavorheard
bring
Turntable Lab
homeboys out to
Enormous Room
.
Sadly I'll be missing all of that. Excuse my absence tomorrow night and many thanks in advance to whoever holds it down in my place. My main goal while in Texas is to jump into a
swimming
hole much like the one pictured above. I suppose I'll catch some shows down there as well. Did a little homework so my game plan is looking better. Really just looking to have a chill time though. If I can swing it I'll blog my activities from down there. Bringing some photo and audio gear. Pondered bringing the video camera but I've been kind of married to it lately for work so I'll check in with these other mediums. Wish me luck!
-Ghost by Ghost West
Wednesday, March 07, 2007
Sitar Power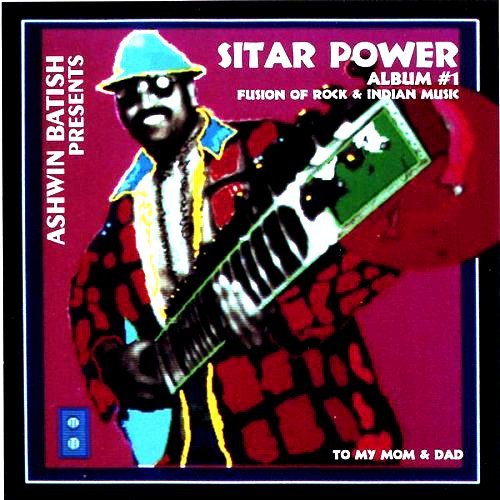 Dug up this Ashwin Batish record from the zbc library like five minutes before going on air it blew me away. Not only did the cover rock my world but song titles like New Delhi Vice and Bombay Boogie were too good to pass up. Kicked off the playlist with New Delhi Vice and was not disappointed. Beat machines, DX-7's, rippin guitars, and of course that quick and dirty Sitar made for a funky combination. MP3 below is a radio rip so it might not be the best quality but make your way over to my man
Ashwin's page
to buy the cd (also on iTunes). Seems like this album had a pretty good run on the left end of the dial way back when so what better time to give it another go? I also can't wait to hear Sitar Power 2! Ashwin has also done instructional videos and traditional recordings including a live album with tabla giant Zakir Hussain (not on iTunes though, may have to call the 1-800 number).
Ashwin Batish - New Dehli Vice
Also some new music from
DJ Phinesse
. Phinesse has the internet going nuts lately and I'm glad I finally got around to peeping his
playlists on iMeem
and nabbing a few tracks. His solo work and mixtapes are all worth a look. Get at him at his
website
,
blog
,
imeem
,
myspace
, see what I mean?
If you picked up an
Improper Bostonian
this past week you might have seen the article on innovative local DJ's. Looks like the hit the nail pretty square on the head with names like
Rugged One
,
Rndm
,
Robotkid
, and underground runners
DJ C and Flack
. The even managed to sneak a picture of me in there somehow. Little did they know I'm fanboy #1 when it comes to these guys!
Pages 1-2
, and
page 3
via Robotkid's flickr.
Weekend holler for
this opening
. Other then that what's really? Tonight's show will be the last before I take off next week to blast down to
South By South West
. Hope to snag lots of audio/visual aids while I'm there so get pumped for some SXSW action! I'll check in again before I get on the plane but till then get at me tonight on the air!
-Ghostdad